Our April workshop will open for submissions on Saturday, April 7th at noon, EST. In addition to our wonderful permanent mentors, we have
Sheryl Scarborough
as our author mentor and
Erica Bauman
of
Aevitas
as our agent mentor! (See below for Erica's background and query preferences.)
The workshop is designed to help writers struggling to find the right opening for their novel or for those looking to perfect the all important first five pages before submitting for publication. Why the first five pages? Because if these aren't perfect, no agent, editor, or reader will continue reading to find out how great the rest of your story really is!
Why is the First Five Pages Workshop a GREAT Opportunity?
You are mentored by at least two traditionally-published published or agented authors for the duration of the workshop. These authors have been through the trenches and know what it takes to get a book deal, solid reviews, and sales.
In addition, you receive feedback from the four other workshop participants.
Feedback is given not just on your initial submission, but on two subsequent opportunities to revise your manuscript based on the previous feedback so that you know you've got it right!
The final revision will also be reviewed by a literary agent, who will also give you feedback on the pitch for your story--the one that may eventually become your query letter or cover copy.
The best entry from among the workshop participants will receive a critique of the full first chapter or first ten pages from the mentoring agent, which may, in some cases, lead to requests for additional material.


How It Works:
Please see the complete rules before entering the workshop, but in a nutshell, we'll take the first five Middle Grade or Young Adult entries that meet all guidelines and formatting requirements. (Double check the formatting - each month we have to disqualify entries because of formatting.)
Click here to get the rules
. We will post when the workshop opens and closes on Adventures in YA Publishing and on twitter (
@etcashman
,
@MelissWritesNow
,
@charlotteclg
), with the hashtag #1st5pages. In addition to the rotating team of our wonderful
permanent author mentors
, the final entry for each workshop participant will be critiqued by our agent mentor.
April Guest Literary Agent Mentor: Erica Bauman
Erica Bauman is a graduate of Johns Hopkins University and has worked in the publishing industry for the last five years. Before coming to Aevitas she worked at Spectrum Literary Agency.
Based in New York, Erica is currently focused on representing a wide range of authors across middle grade, young adult, and adult fiction, as well as some select narrative nonfiction projects. She is most interested in novels that straddle the line between literary and commercial, imaginative tales with a speculative twist, fearless storytellers that tackle big ideas and contemporary issues, and working with and supporting marginalized authors and stories that represent the wide range of humanity.
To query, please submit through our website:
http://aevitascreative.com/contact/

April Guest Literary Author Mentor: Sheryl Scarborough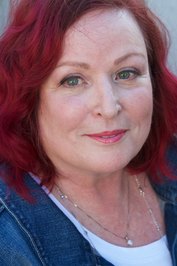 Sheryl Scarborough
, an award-winning writer for children's television, is the author of
To Catch A Killer
and
To Right The Wrongs
, a YA mystery series with Tor Teen. The appearance of a habitual Peeping Tom at her home when she was twelve sparked an obsession with forensics.
She holds an MFA in Writing for Children and Young Adults from Vermont College of Fine Arts and lives with her husband and writer-cats in Washington state, across the river from Portland, OR.
About
TO RIGHT THE WRONGS:
Barely three weeks after catching the killer of Erin's mother and their biology teacher, Erin and her crew are back, up to their elbows in forensics projects. But this time it's with the full approval of their parents.
With Uncle Victor at the helm, Erin and her best friends, Spam and Lysa, are prepping a new classroom for CSI summer camp, where they will serve as camp counselors. Meanwhile, Erin's super-hot new boyfriend, Journey, is graduating, just in time for him to take a position as Victor's intern in the new CSI lab on campus. Journey and Victor are going to take another look at the evidence in the murder trial that sent Journey's father to prison. The girls are under strict orders not to meddle with the murder case, but that's easier said than done...
Where to Buy:
Barnes & Noble
Amazon
IndieBound
Add It On
GOODREADS
!