Our March workshop will open for submissions on Saturday, March 3rd at noon, EST. In addition to our wonderful permanent mentors, we have
Heather Meloche
as our author mentor and
Lynnette Novak
of
The Seymour Agency
as our agent mentor! (See below for Lynnette's background and query preferences.)
The workshop is designed to help writers struggling to find the right opening for their novel or for those looking to perfect the all important first five pages before submitting for publication. Why the first five pages? Because if these aren't perfect, no agent, editor, or reader will continue reading to find out how great the rest of your story really is!
Why is the First Five Pages Workshop a GREAT Opportunity?
You are mentored by at least two traditionally-published published or agented authors for the duration of the workshop. These authors have been through the trenches and know what it takes to get a book deal, solid reviews, and sales.
In addition, you receive feedback from the four other workshop participants.
Feedback is given not just on your initial submission, but on two subsequent opportunities to revise your manuscript based on the previous feedback so that you know you've got it right!
The final revision will also be reviewed by a literary agent, who will also give you feedback on the pitch for your story--the one that may eventually become your query letter or cover copy.
The best entry from among the workshop participants will receive a critique of the full first chapter or first ten pages from the mentoring agent, which may, in some cases, lead to requests for additional material.


How It Works:
Please see the complete rules before entering the workshop, but in a nutshell, we'll take the first five Middle Grade or Young Adult entries that meet all guidelines and formatting requirements. (Double check the formatting - each month we have to disqualify entries because of formatting.)
Click here to get the rules
. We will post when the workshop opens and closes on Adventures in YA Publishing and on twitter (
@etcashman
,
@MelissWritesNow
,
@charlotteclg
), with the hashtag #1st5pages. In addition to the rotating team of our wonderful
permanent author mentors
, the final entry for each workshop participant will be critiqued by our agent mentor.
March Guest Literary Agent Mentor Lynnette Novak:
Prior to joining The Seymour Agency, Lynnette spent seventeen years freelance editing. She worked with new writers, advanced writers, as well as New York Times and USA Today bestselling authors. Lynnette earned a bachelor of education degree from the University of Manitoba, where she specialized in English and French. She excelled in Advanced Creative Writing in university and studied writing for children and teens through the Institute of Children's Literature. She was a Pitch Wars mentor in 2015 and 2016. Both her mentees acquired an agent.
Although Lynnette was born and raised in Manitoba, Canada, she now lives in Minnesota with her husband, twin girls, and many pets. Her personal interests include reading, writing, exercising at the gym (okay, that's a love/hate relationship), working on an assortment of crafts, all things having to do with animals (if she could own a farm, zoo, and animal shelter, she would), and enjoying time with family and friends.
To Contact Lynnette Novak:
Query: querylynnette [at] theseymouragency [dot]com
Other: lynnette [at] theseymouragency [dot] com (No queries to this address, please.)
Follow Lynnette on Twitter: @Lynnette_Novak
Heather Smith Meloche
has had the honor of winning the Katherine Paterson Prize and the Writer's Digest National Competition for her children's/Young Adult writing.
Heather is a member of the Society of Children's Book Writer's and Illustrators (SCBWI) as well as a member of the Young Adult Chapter of Romance Writer's of America (YARWA).She spends her days in her home in Michigan sampling a wide variety of chocolate, letting her dogs in and out constantly, and writing and reading as much as she can.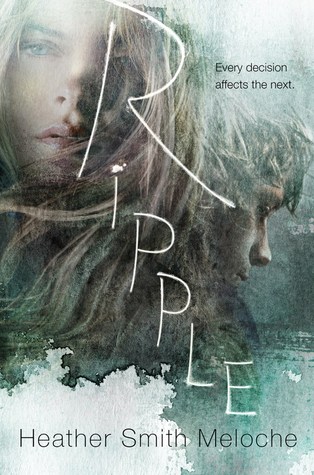 With her impossible-to-please grandmother on her back about college and her disapproving step-dad watching her every move, Tessa would do anything to escape the pressure-cooker she calls home. So she finds a shot of much-needed power and confidence by hooking up with boys, even though it means cheating on her boyfriend. But when she's finally caught red-handed, she'll do anything she can to cover up what she's done.
Jack is a prankster who bucks the system every chance he gets—each transgression getting riskier and riskier. He loves the thrill, and each adventure allows a little release because his smug smile and suave demeanor in the face of authority doesn't make life at home with his mom any less tough.
As they both try not to let their self-destructive patterns get the best of them, Tessa and Jack gravitate toward one another, discovering the best parts of themselves in the process. An honest portrayal of the urges that drive us and finding the strength to overcome them.
Where To Buy: