Our October workshop will open for submissions on Saturday, October 7th at noon, EST. In addition to our wonderful permanent mentors, we have
Amy Dominy
as our author mentor and
Kaitlyn Johnson
of Corvisiero Literary Agency as our agent mentor! (See below for Kaitlyn's background and query preferences.)
The workshop is designed to help writers struggling to find the right opening for their novel or for those looking to perfect the all important first five pages before submitting for publication. Why the first five pages? Because if these aren't perfect, no agent, editor, or reader will continue reading to find out how great the rest of your story really is!
Why is the First Five Pages Workshop a GREAT Opportunity?
You are mentored by at least two traditionally-published published or agented authors for the duration of the workshop. These authors have been through the trenches and know what it takes to get a book deal, solid reviews, and sales.
In addition, you receive feedback from the four other workshop participants.
Feedback is given not just on your initial submission, but on two subsequent opportunities to revise your manuscript based on the previous feedback so that you know you've got it right!
The final revision will also be reviewed by a literary agent, who will also give you feedback on the pitch for your story--the one that may eventually become your query letter or cover copy.
The best entry from among the workshop participants will receive a critique of the full first chapter or first ten pages from the mentoring agent, which may, in some cases, lead to requests for additional material.
How It Works
Please see the complete rules before entering the workshop, but in a nutshell, we'll take the first five Middle Grade or Young Adult entries that meet all guidelines and formatting requirements. (Double check the formatting - each month we have to disqualify entries because of formatting.)
Click here to get the rules
. We will post when the workshop opens and closes on Adventures in YA Publishing and on twitter (@etcashman, @MelissWritesNow,
@charlotteclg
), with the hashtag #1st5pages. In addition to the rotating team of our wonderful
permanent author mentors
, the final entry for each workshop participant will be critiqued by our agent mentor.
October Guest Literary Agent Mentor : Kaitlyn Johnson
After receiving a BA in Writing, Literature, and Publishing from Emerson College, Kaitlyn refused to leave the concept of nightly homework behind. Centering her life around everything literary, she started her own freelance editing company,
K. Johnson Editorial
, as soon as her diploma arrived in the mail.
Kaitlyn is proud to be an apprentice agent with Corvisiero Literary Agency, as well as the Muse and the Marketplace Conference Assistant for GrubStreet, Boston. Check Twitter,
@kaitylynne13
, for #mswl listings and writerly life thoughts.
​- YA, NA, and A are her main interests. She mostly drools for fantasy (yes, that very much includes urban!), time travel, select dystopian, romance (with erotic elements is OK), and historical fiction if it is anything other than Henry VIII.
- Contemporary can grab her attention only if the concept is unique enough and executed well. Overplayed tropes/characters make her cringe. Same goes for upper MG.
- LGBT (as well as characters questioning their sexuality) welcome in all genres accepted above.
When querying, please follow
submission guidelines
.
Amy Dominy is an advertising copywriter turned playwright turned novelist. Her books for teens and tweens include
DIE FOR YOU
;
A MATTER OF HEART;
AUDITION & SUBTRACTION;
and
OyMG
, a Sydney Taylor Notable Book.
Amy's first picture book,
COOKIESAURUS REX
, co-written by Nate Evans, is coming from Disney on September 26th. It's going to be sweet! :)
Amy lives in Phoenix, Arizona with her hubby and two children who come home for school breaks and free meals.

About DIE FOR YOU: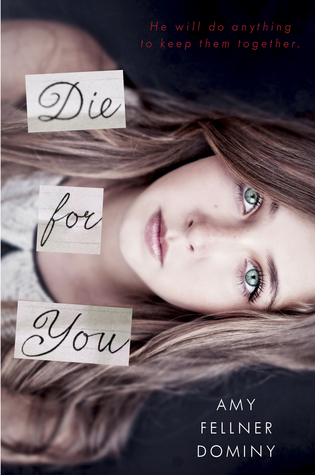 Theirs was the perfect love story. After Emma Lorde's parents' divorce forces her to move halfway across the state of Arizona to live with her father, Emma must face her senior year in a new school knowing absolutely no one.
Then she meets Dillon Hobbs, and something just clicks.
Dillon introduces Emma to friends she can call her own. He provides a refuge from the chaos of her past, and the security of a commitment that he promises will last forever. And because circumstances of her messy life forced Emma to put aside her dream of pursuing archaeology, Dillon creates a blueprint for a future together.
He saves her, over and over, by loving her more than she thought anyone ever would.
But just when everything seems picture-perfect, Emma is offered an opportunity that will upend the future they've planned. Uncertainty grows, and fear spirals into something darker.
Now Dillon is the one who needs saving.
But how much do you sacrifice for the one you love? What if saving Dillon means losing herself?
Where to Buy: