Our February workshop will open for entries on Saturday, February 6 at noon, EST. We'll take the first five Middle Grade, Young Adult, or New Adult entries that meet all guidelines and formatting requirements. Click
here
to get the rules. I will post when it opens and closes on Adventures in YA Publishing and on twitter (@etcashman), with the hashtag #1st5pages. In addition to our wonderful permanent mentors, we have author
Brian Katcher
and agent
Christa Heschke
!
February Guest Mentor –
BRIAN KATCHER
Brian, a Stonewall Book Award-winning author, is the author of
THE IMPROBABLE THEORY OF ANA AND ZAK
,
ALMOST PERFECT
,
EVERYONE DIES IN THE END
, and
PLAYING WITH MATCHES
. Brian's worked as a fry cook, a market researcher, a welding machine operator, a telemarketer (only lasted one day), and a furniture mover. He lived on an Israeli military base one summer, and once smuggled food into Cuba. When he's not writing, he works as a school librarian. He lives in central Missouri with his wife and daughter.
THE IMPROBABLE THEORY OF ANA AND ZAK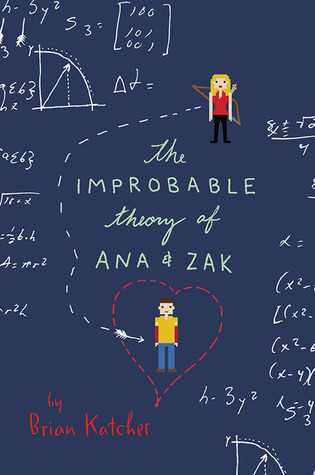 The Improbable Theory of Ana and Zak is Stonewall Book Award-winning author Brian Katcher's hilarious he said/she said romance about two teens recovering from heartbreak and discovering themselves on an out-of-this-world accidental first date.
It all begins when Ana Watson's little brother, Clayton, secretly ditches the quiz bowl semifinals to go to the Washingcon sci-fi convention on what should have been a normal, résumé-building school trip.If slacker Zak Duquette hadn't talked up the geek fan fest so much, maybe Clayton wouldn't have broken nearly every school rule or jeopardized Ana's last shot at freedom from her uptight parents.
Now, teaming up with Duquette is the only way for Ana to chase down Clayton in the sea of orcs, zombies, bikini-clad princesses, Trekkies, and Smurfs. After all, one does not simply walk into Washingcon.
But in spite of Zak's devil-may-care attitude, he has his own reasons for being as lost as Ana-and Ana may have more in common with him than she thinks. Ana and Zak certainly don't expect the long crazy night, which begins as a nerdfighter manhunt, to transform into so much more…
Purchase it at your local bookstore, or
online
. And add it to your shelf on
Goodreads!
February Guest Agent –
CHRISTA HESCHKE
Christa started in publishing as an intern at both Writers House and Sterling Lord Literistic, where she fell in love with the agency side of publishing. Christa has been at McIntosh and Otis, Inc. in the Children's Literature Department since 2009 where she is actively acquiring for all age groups in children's. For YA, she is especially interested in contemporary fiction, thriller/mystery, and horror. She is always on the lookout for a compelling voice combined with a strong, specific hook that will set a YA novel apart in its genre and the flooded market. She is open to all types of middle grade and especially enjoys adventure, mystery, and magical realism, whether in a voice that is more light and humorous or one with more of a timeless, literary feel. For both YA and MG, she is particularly interested in unique settings and cultural influences, interesting storytelling structure, complicated romances, diverse characters, sister or friendship-centric stories, and stories that feature artists of any kind.