Our October workshop will open for entries on Saturday October 3, 2015, at noon, EST. We'll take the first five Middle Grade, Young Adult, or New Adult entries that meet all guidelines and formatting requirements. Click
here
to get the rules. I will post when it opens and closes on Adventures in YA Publishing and on twitter (@etcashman), with the hashtag #1st5pages. In addition to our permanent mentors, we have author
Lee Bross
and agent
Saba Sulaiman
!
And we have a new format! The workshop is three weeks, but the third week will now include a pitch. And Saba will select one participant as the "workshop winner"- and the prize is that she will review and comment on the first chapter of the manuscript!
October Guest Mentor –
Lee Bross
LEE BROSS is the author of
Tangled Webs
,
Fates
and
Chao
s (as Lanie Bross), and she writes NA (
Right Where you Are
releasing 11/15/2015, and
Whatever it Takes
, releasing 12/15/15) as L.E Bross. She was born in a small town in Maine, where she spent the next eighteen years dreaming of bigger places. After exploring city life, she and her husband and two young sons ended up going right back to the wilds of Maine. They now live just one house down from where she grew up. Fate, perhaps? Lee loves chasing her rambunctious kids, playing tug-of-war with her ninety-five-pound Lab, and writing for teens. Visit her online at leebross.com and follow her on
Twitter
.
TANGLED WEBS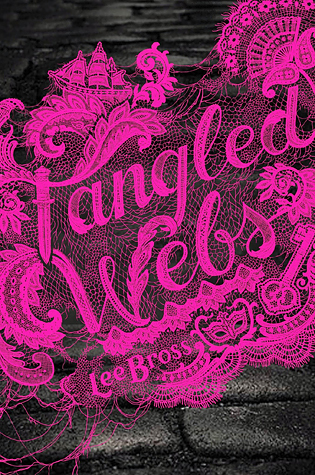 London, 1725. Everybody has a secret. Lady A will keep yours—for a price. This sumptuous, scandalous YA novel is wickedly addictive.
Lady A is the most notorious blackmailer in the city. With just a mask and a gown to disguise her, she sweeps into lavish balls and exclusive events collecting the most valuable currency in 1725 London—secrets.
But leading a double life isn't easy. By day Lady A is just a sixteen-year-old girl named Arista who lives in fear of her abusive master, Bones, and passes herself off as a boy to move safely through the squalor of London's slums. When Bones attempts to dispose of his pawn forever, Arista is rescued by the last person she expects: Jonathan Wild, the infamous Thief Taker General who moves seamlessly between the city's criminal underworld and its most elite upper circles. Arista partners with Wild on her own terms in the hopes of saving enough money to buy passage out of London.
Everything changes when she meets Graeden Sinclair, the son of a wealthy merchant. Grae has traveled the world, has seen the exotic lands Arista has longed to escape to her whole life, and he loves Arista for who she is—not for what she can do for him. Being with Grae gives something Arista something precious that she swore off long ago: hope. He has promised to help Arista escape the life of crime that has claimed her since she was a child. But can you ever truly escape the past?
Purchase it at your local bookstore, or online at
Amazon
or
Barnes & Noble
, and add to
Goodreads
!
October Guest Agent -
Saba Sulaiman
After double majoring in Economics and Middle Eastern Studies at Wellesley, Saba studied modern Persian Literature at the University of Chicago, where she got involved with editing the department's academic journal. And it finally hit her—working closely with writers to hone their craft; seeing a piece of writing from its inception through to its eventual publication; and advocating for what she believed was stellar prose worthy of recognition—this was her calling. So she interned at various newspaper and magazine publications, worked as an editorial intern at Sourcebooks, and then wound up at Talcott Notch, where she's excited to begin her career as a literary agent. She is looking for strong voices and unconventional narratives that really make her sit up, pay attention, and move her. Introduce her to unforgettable characters with complex, deep relationships, and show her worlds where things aren't necessarily as they seem. Intelligent, sharp writing with soul is her biggest weakness, and if you can offer a fresh perspective on top of that, she'll probably be sold.