The First Five Pages May Workshop has come to an end. The participants worked so hard, and did a great job with their revisions. A big thanks to our guest mentor, Diana Renn, and our guest editor, Georgia McBride, both of whom provided terrific comments and suggestions, and of course to all of our fabulous permanent mentors!
Our June workshop will open for entries at noon, EST, on Saturday June 6, 2015. We'll take the first five Middle Grade, Young Adult, or New Adult entries that meet all guidelines and formatting requirements. Click
here

to get the rules. I will post when it opens and closes on

Adventures in YA Publishing

and on twitter (@etcashman), with the hashtag #1st5pages.
In addition to our talented permanent mentors, we have Shaun Hutchinson, author of The Deathday Letter, fml, and The Five Stages of Andrew Brawley. And we have

Tina Schwartz as

our guest agent, founder of The Purcell Agency. So get those pages ready!
Shaun is a major geek and all about nerdy shenanigans. He is the author of The Deathday Letter, fml, and The Five Stages of Andrew Brawley. He currently lives in South Florida with his partner and dog and watches way too much

Doctor Who.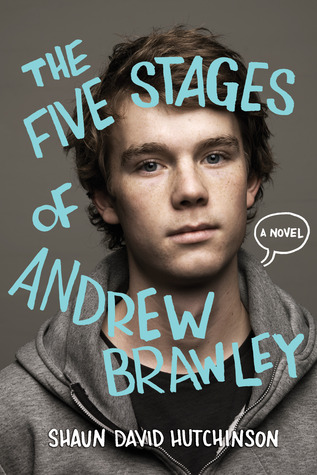 Andrew Brawley was supposed to die that night. His parents did, and so did his sister, but he survived.

Now he lives in the hospital. He serves food in the cafeteria, he hangs out with the nurses, and he sleeps in a forgotten supply closet. Drew blends in to near invisibility, hiding from his past, his guilt, and those who are trying to find him.

Then one night Rusty is wheeled into the ER, burned on half his body by hateful classmates. His agony calls out to Drew like a beacon, pulling them both together through all their pain and grief. In Rusty, Drew sees hope, happiness, and a future for both of them. A future outside the hospital, and away from their pasts.

But Drew knows that life is never that simple. Death roams the hospital, searching for Drew, and now Rusty. Drew lost his family, but he refuses to lose Rusty, too, so he's determined to make things right. He's determined to bargain, and to settle his debts once and for all.

But Death is not easily placated, and Drew's life will have to get worse before there is any chance for things to get better.
Agent Tina P. Schwartz, founder of The Purcell Agency , admits to being a reluctant reader as a child. In fact, she says she is still very picky when it comes to choosing a book. When not reading manuscripts, marketing website, social media, or industry blogs, you can find Schwartz on her laptop enjoying her own writing time. Tina is an active member of the Society of Children's Book Writers & Illustrators (SCBWI), and is the Co-Rep for her local chapter.