This was our first workshop with a guest agent, and it went great! Agent Jordy Albert of The Booker Albert Literary Agency kindly read the participants final revisions, and gave her comments from an agent's point of view. And our guest author,

the talented
Paula Stokes
, author of THE ART OF LAINEY, provided great feedback, along with all of our wonderful permanent mentors.
Our November workshop will open for entries at 12:00 EST on November 1, 2014. We'll take the first five Middle Grade, Young Adult, or New Adult entries that meet all guidelines and formatting requirements. Our guest author mentor is J. R. Johansson, author of several fabulous books, including INSOMNIA and PARANOIA, of The Night Walker Series, and CUT ME FREE coming January, 2015! And instead of a guest agent, this month I'm thrilled to have my editor for THE EXCEPTIONALS, the amazing Pam Glauber, join us for the final week. Pam was an editor at Holiday House for years, and now does freelance editing. Trust me when I tell you that she is an incredible editor! I will post reminders here, on Adventures in YA Publishing, and on twitter (@etcashman) when the workshop is open, and when it closes.
J. R. Johansson's debut,

INSOMNIA

, is a Young Adult Supernatural Psychological Thriller available now in the U.S., Hungary, and Spanish. It is coming soon to German, Chinese, Portuguese and Czech.

PARANOIA

(Book #2) was released on June 8th, 2014. MANIA, the third and final book in The Night Walkers Series, will be available

June 8th, 2015

. She also has two other Contemporary YA Thrillers in the works.

CUT ME FREE

coming

January 27th, 2015

, and an untitled book in Fall 2016.
Jenn has a B.S. degree in public relations and a background in marketing. Her abnormal psychology minor inspired many of her characters. When she's not writing, she loves reading, playing board games, and sitting in her hot tub. Her dream is that someday she'll find a way to do all three at the same time.
ABOUT THE BOOK
CUT ME FREE
By J.R. Johansson
January 27, 2015
Farrar, Straus and Giroux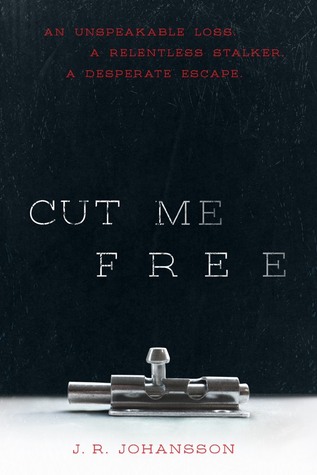 Seventeen-year-old Charlotte barely escaped from her abusive parents. Her little brother, Sam, wasn't as lucky. Now she's trying to begin the new life she always dreamed of for them, but never thought she'd have to experience alone. She's hired a techie-genius with a knack for forgery to remove the last ties to her old life. But while she can erase her former identity, she can't rid herself of the memories. And her troubled history won't let her ignore the little girl she sees one day in the park. The girl with the bruises and burn marks.
That's when Charlotte begins to receive the messages. Threatening notes left in her apartment--without a trace of entry. And they're addressed to Piper, her old name. As the messages grow in frequency, she doesn't just need to uncover who is leaving them; she needs to stop whoever it is before anyone else she loves ends up dead.
NOVEMBER GUEST AGENT: PAM GLAUBER!
Pam Glauber is a freelance editor, copyeditor, and proofreader who enjoys working with both aspiring and published authors to produce their best writing. She also freelances for publishing houses. Most recently Pam was an editor at Holiday House, where she spent six years acquiring and editing award-winning picture books, early readers, and middle-grade and young adult novels. She acquired Holiday House's first paranormal romance and steampunk novels, and she particularly enjoys editing historical fiction, fantasy, contemporary fiction, and nonfiction. She holds a BA in English from Cornell University and a professional certificate in editing from New York University. She is now raising a young reader of her own.
You can reach her at pam.glauber (at) gmail (dot) com