Our May workshop is open! Please submit your entries
according to the usual rules
.
Tracy Clark
, our May guest mentor, is the author if SCINTILLATE, book one in the Light Key Trilogy, just out from Entangled Teen. She grew up in Southern California and moved to northern Nevada in her early twenties. She's a mother, lover of words, private pilot and irredeemable dreamer.
She's also known for excessive use of the following phrases: "Just sayin'" and "That is just too much stress for me".
You can find Tracy on her
website
or on
Twitter
.
Along with Tracy, workshop participants will be mentored by our usual cast:
Martina Boone,
the workshop founder, loves reading and writing books about beautiful, vicious, magical worlds that intersect our own. She is the principal blogger at
Adventures in YA Publishing
, and the founding member of
YA Series Insiders
.
COMPULSION
, the first book of her Southern Gothic HEIRS OF WATSON ISLAND trilogy, will be available Fall 2014 from Simon and Schuster/Simon Pulse. You can reach her at AYAPLit [at] gmail dot com, on Twitter via
@MartinaABoone
or at
http://www.martinaboone.com/
.
Lisa Gail Green
writes paranormal and fantasy. She is the author of
THE BINDING STONE
, the first novel in her DJINN series. She would most definitely have a werewolf for a pet if she weren't allergic. Find her at
http://lisagailgreen.com
or on Twitter as
@LisaGailGreen
.
Kimberly Sabatini
is a former Special Education Teacher who is now a stay-at-home mom and a part-time dance instructor for three and four year olds. She lives in New York's Hudson Valley with her husband and three boys. Kimberly writes Young Adult fiction and is represented by Michelle Wolfson of Wolfson Literary Agency.
TOUCHING THE SURFACE
was her debut novel. (Simon Pulse – Simon & Schuster, October 30, 2012) Stop by and see her on her
website
or on
Twitter
.
Julie Musil
is represented by Karen Grencik of Red Fox Literary. She writes Young Adult novels from her rural home in Southern California, where she lives with her husband and three sons. She's an obsessive reader who loves stories that grab the heart and won't let go. Stop by and say Hi on her
blog
on
Twitter
.
Susan Dennard
is a reader, writer, lover of animals, and eater of cookies. She used to be a marine biologist, but now she writes novels–and not novels about fish, but novels about kick-butt heroines and swoon-worthy rogues. She lives in the Midwestern US with her French husband and Irish setter, and you can learn more about her crazy thoughts and crippling cookie-addiction on her
blog
or
Twitter
. Her debut,
SOMETHING STRANGE AND DEADLY
, as well as the prequel,
A DAWN MOST WICKED
, and the sequel,
A DARKNESS STRANGE AND LOVELY
, are now available from HarperTeen!
Ron Smith
writes television commercials for an ad agency in Chicago. He doesn't want to talk about it. He'd rather be writing fiction full-time, and exploring worlds of wonder and imagination. He writes YA and MG fiction and is represented by Adriann Ranta of Wolf Literary Services. Say hello on his
blog
or on
Twitter
.
Miriam Forster
is a recovering barista and former bookseller who's obsessed with anthropology, British television and stories of all kinds. Her debut fantasy
CITY OF A THOUSAND DOLLS
was published by HarperTeen in February 2013. She lives in Oregon with her husband and her cat. Find her on her
blog
or on
Twitter
.
Leslie S. Rose
was an assistant professor in the Department of Theatre at UCLA for many years where several of her plays were produced. Her short stories appear in the ongoing Journeys of Wonder series and the anthology Paramourtal 2 by Cliffhanger Books. Currently she teaches in the 5th Grade trenches. YA fiction is her happy place for both reading and writing. Visitors welcome on
Twitter
and her blog:
Yes, This Will Be on the Test
.
Erin Cashman's
debut YA fantasy novel,
THE EXCEPTIONALS
, was named a Bank Street College of Education Best Children's Book. She primarily writes YA and middle grade fantasy while eating chocolate and drinking tea. She lives in Massachusetts with her husband and three children. Be sure to catch her
blog
and
Twitter
feeds.
Sheri Larsen
is a lover of the otherworldly, and her sweet spot is writing for the average tween/teen who's not so average. But she write picture books and middle grade as well. She is represented by Paula Munier of Talcott Notch Literary, and is also the creator of #WS4U!-a Facebook writer support group, and co-collaborator for
Oasis for YA
-my team YA site. Catch her on
Twitter
and on
her blog
.
Stasia Ward Kehoe
is the author of YA novels
THE SOUND OF LETTING GO
and
AUDITION
, both published by Viking. She grew up performing at theaters along the eastern seaboard, then shifted from stage to page and has been writing fiction, marketing copy and educational materials for almost two decades! She holds a BA in English from Georgetown University and MA in Performance Studies from New York University, is represented by Catherine Drayton of Inkwell Managedment, and still enjoys choreographing the occasional musical. Stasia lives in western Washington state with her husband and four sons.Visit her online at
on her website
or
Twitter
.
Melanie Conklin
is a writer, reader, and all-around lover of words and those who create them. Her debut novel for middle grade readers,
Counting Thyme
, will be published by Putnam & Sons in 2016. She lives in South Orange, New Jersey with her husband and two small maniacs. She's on the web at her
website
and on
Twitter
.
Kimberley Griffiths Little
is an award-winning author of several Middle-Grade novels with Scholastic and her Young Adult trilogy FORBIDDEN will launch this Fall with Harpercollins after selling in a "significant" pre-empt. She grew up in San Francisco, but now lives in an adobe house on the banks of the Rio Grande with her chaotic, messy family. Please find her on on her
website
or on
Twitter
.
About Scintillate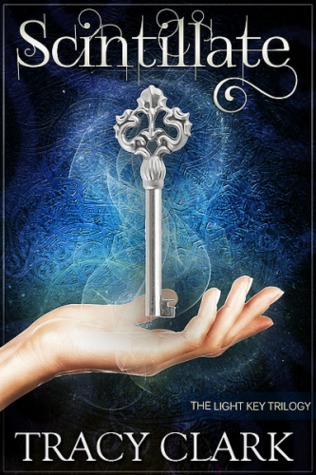 A mighty flame follows a tiny spark.
Cora Sandoval's mother disappeared when she was five and they were living in Ireland. Since then, her dad has been more than overprotective, and Cora is beginning to chafe under his confines. But even more troubling is the colorful light she suddenly sees around people. Everyone, that is, except herself—instead, she glows a brilliant, sparkling silver.
As she realizes the danger associated with these strange auras, Cora is inexplicably drawn to Finn, a gorgeous Irish exchange student who makes her feel safe. Their attraction is instant, magnetic, and primal—but her father disapproves, and Finn's mother orders him home to Ireland upon hearing he's fallen in love. After a fight with her father, Cora flees to Ireland, both to follow Finn and to look for her missing mother.
There she meets another silver-haloed person and discovers the meaning of her newfound powers and their role in a conspiracy spanning centuries—one that could change mankind forever…and end her life.
Scintillate is the first book in this lush and exciting new trilogy, full of romance, adventure and metaphysical mystery.
Purchase on Amazon | Purchase on IndieBound | Add to Goodreads